We both studied and worked in hotels and tourism for several reasons: learning new languages ​​and cultures, being able to live in unique places and discovering them.
After a few years in the Swiss Alps, it was time to move. And we wanted to move towards something new so we decided to come to the Nordeste of Brazil. Living in an almost virgin place, full of nature and with continuous access to kitesurfing were more than enough reasons to be sure that the bet could not be a bad one.
We knew a bit about the area after a couple of trips and we knew that setting up here would not be the same as being on vacation. After a couple of months in Jericoacoara we realized that a 4×4 was the only way to be able to take full advantage of the region, and that was the true beginning of our adventure.
We participated in a downwind, from Jeri to Atins, and travelled the entire coast for miles and miles of deserted beaches, crossing rivers, deltas and park of dunes … Furthermore the contact with the unspoiled nature and above all, with the local population, was what gave us the energy and desire to make this region our playground and share it with the whole world through a travel agency.
There we decided to discover the whole coast, from Fortaleza to Atins, in 4×4. We wanted to check the different lodgings and kite schools, but also take the same roads as the transfers or enjoy the activities that each spot offers. This trip showed us the potential of an almost virgin region where contact with local people is what we liked most and helped us understand a region full of unexpected things.
We acquired all our knowledge through the local people we met throughout our journey. We know what to do, where to stay and most importantly how to make your holidays unforgettable and full of adventures!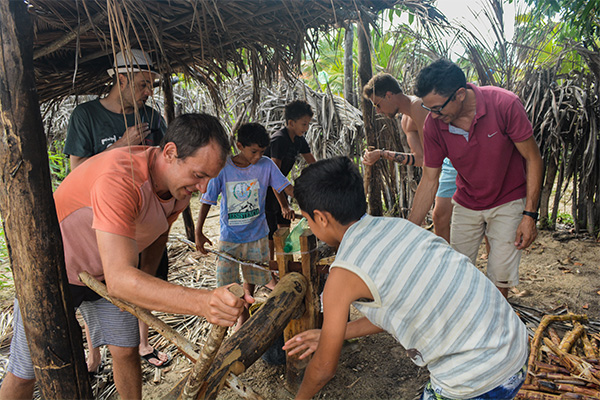 100% TAYLOR-MADE
Our greatest added value is surely the personalized work we do to prepare your holiday. Getting to know you and introducing you to all our services will be the first and most important step to start creating your dream trip. Then, always together, we will finalize a unique and 100% personalized proposal.

CONCIERGE SERVICE
During the trip, you can contact us at any time to add an excursion you want to do at the last minute, book a restaurant or even organize a dinner with a private chef on the beach. We know every corner and every person in every spot and we will make you enjoy it to the fullest during your stay.

SECURITY & 24/7 SUPPORT
To prepare those journeys, we have selected only professionals we know and choose to work with, people who will make you feel comfortable and safe. In addition, we will always be in touch during your trip, we will be your interlocutors in any type of situation requiring special attention.

WORKING WITH THE LOCAL COMMUNITY
It is very important to work with local people because they are the ones who really allow us to enjoy their land and habits. They will be proud to reveal their treasures and secrets to you, they are the ones who know them best. That's why we work with them as much as possible, focusing on small and family businesses.

SUPPORT TO LOCAL ASSOCIATIONS
Because every gesture counts, we have decided to make each trip an opportunity to bring our contribution to the people who need it. For this reason, part of the profits from each trip will be used to help the associations of the destinations visited.

CARBON OFFSET
We are aware that you will discover here more than kitesurf, and it will be by 4x4, ATV or even by plane. This is why we have partnered with the Iniciativa Verde to offset, without any impact on the price, all carbon emissions due to our trips and our company. Another way of contributing to the conservation of natural ecosystems and to the well-being of rural communities.
Our goal is to make the Nordeste of Brazil affordable for everyone. For this we have personally visited and validated all the establishments with whom we work, allowing you to access all kinds of comfort, at the best price, in all our destinations.
Contact us, and we will quickly send you a free and tailor-made quotation.